---
(out-of-character)


The text below contains discussions or references written in an out-of-character style and it may be not canonical.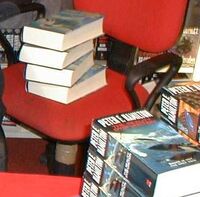 Night's Dawn, a trilogy by Peter F. Hamilton, consists of three novels:
It is the main source of this website.
Due to the size of the books, for U.S. and Finnish paperback publication each was split into two volumes (each with its own title, q.v.). For the Italian and Portuguese markets the trilogy was released in 12 parts.