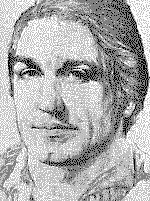 Fletcher CHRISTIAN, a.k.a. Tritreano, 1764-1793. Noted British sailor. See here for his pre-2611 life.
---
(Spoiler Warning)


The text below mentions events occured after
2611
and/or contains information relevant to the
plot
of the
trilogy
. Proceed at your own risk!

One of several well-known historical figures to return from the beyond, Fletcher Christian reveals himself a noble soul, distinct from many others in his desire to help the protagonists and to defend them from the less benign possessors.
External links